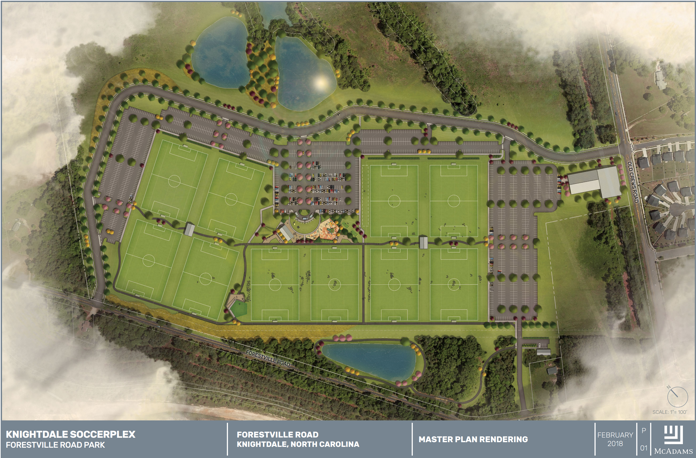 Wake Stone Corporation Donates Land for North Carolina Football Club Knightdale Soccer Complex
After working with the Town of Knightdale for several years, Wake Stone Corporation announced a 40-acre land donation valued at $2 million for the creation of the North Carolina Football Club (NCFC) Knightdale Soccer Complex. Wake Stone Corporation has also committed to donate an additional 40-acres to complete Phase 2 of the soccer complex featuring ten regulation-size fields.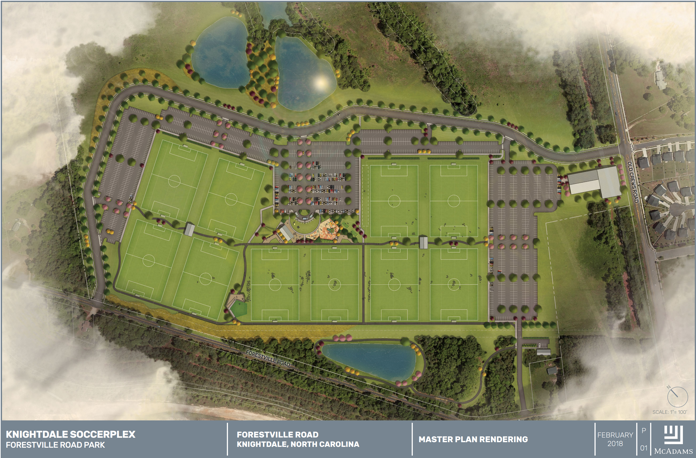 "It is exciting to see this vision become a reality after years of working with the Town of Knightdale and other stakeholders to provide additional recreational opportunities for the community,"said Wake Stone Corporation President Sam Bratton. "At Wake Stone, we have a long history of serving the communities where we operate, and we are glad that this donation will benefit residents of Knightdale and the greater Wake County region for generations to come."
In addition to Wake Stone Corporation's land donation, the Wake County Board of Commissioners voted on Monday to award $1 million to the Town of Knightdale through the Hospitality Tax Small Projects Capital Grant for Phase I of construction for the soccer complex. Phase I of the project includes the construction of five soccer fields and Phase II will include an additional five fields. Construction on Phase I is scheduled to begin in the fall of 2018. The future Knightdale Soccer Complex will be located near the intersection of Forestville Road and Old Crews Road.
Knightdale Mayor James Roberson stated,
"Partnerships with supporters like the Wake Stone Corporation, NCFC, and Wake County are what creates sustainable economies in communities such as ours. This project will generate an estimated economic benefit of $4.4 million annually, bringing an estimated 261,000 visitors to Eastern Wake County."
Wake Stone Corporation has a family tradition and a longstanding reputation of taking care of the communities we serve. In 1994, the company donated eight acres of land adjacent to the then "new" Town Hall in Knightdale, which became an environmental park. The company has also donated vehicles and equipment to the local fire department and provided funding for various town projects since 1970.
This exciting news has been picked up by The News & Observer,  Triangle Business Journal, and WRAL News!