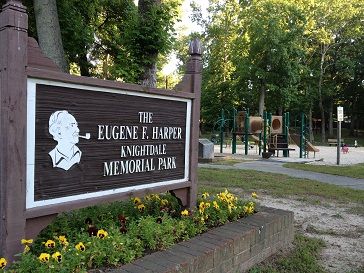 Wake Stone Makes $226,000 Donation To Knightdale Inclusive Playground Project
KNIGHTDALE, NC – Wake Stone Corporation, a leader in aggregate products in North and South Carolina, announced a donation to the Town of Knightdale for the development of an inclusive playground at Harper Park. The $226,000 donation is a matching fund commitment that will directly benefit the pour-and-play footprint of the playground, as well as additional playground equipment.
"Wake Stone Corporation and our employees are pleased to announce a gift of $226,000 to establish a playground in Knightdale's Harper Park for the developmentally challenged," said Sam Bratton, President and CEO of Wake Stone Corporation. "This gift is made in memory of our founder, John Bratton Jr., honoring his 100th birthday. We believe strongly in giving back to the communities in which our operations are located. Wake Stone Corporation started in Knightdale over 52 years ago. It is only appropriate that we celebrate Mr. Bratton's legacy with this gift to the community where it all began."
The inclusive playground, which will be located at 207 Main Street in Knightdale, will be a universally designed, sensory-rich environment that enables children to develop physically, socially and emotionally. The playground will welcome individuals and communities of all abilities to engage, learn, play and grow together. Further, the playground will be a multi-generational gathering space in Knightdale for community enjoyment.
The Harper Park Playground Project was awarded in February 2022 and is anticipated to be completed in July 2022. The project will be overseen by designer CLH Design, P.A., and Jackson Builders construction. Playground equipment will be provided by Carolina Parks and Play.
For more information on the Harper Park Playground Project, please contact Knightdale Town Manager Bill Summers at bill.summers@knightdalenc.gov, or Knightdale Parks, Recreation and Cultural Programs Director, Chris Wiley, at chris.wiley@knightdalenc.gov.
About Knightdale, NC
Knightdale is a town located in eastern Wake County, North Carolina, with a growing population of approximately 20,000 citizens. It has been named a Top 100 Best Places to Live in the US by Money Magazine and Top 10 Fastest Growing Communities in North Carolina. For more information, visit www.knightdalenc.gov